Matthew Curry was born in Chicago, Illinois, in 1975. He grew up between Detroit, MI, and Wilmington, DE. Having majored in Illustration at Rhode Island School of Design, he is currently a twice Grammy nominated designer, illustrator, painter, and the principal of the award winning design studio, Imagefed, based in Washington DC. The visual language Matthew Curry has developed is easily recognizable on album and magazine covers, limited edition products, and in galleries and venues worldwide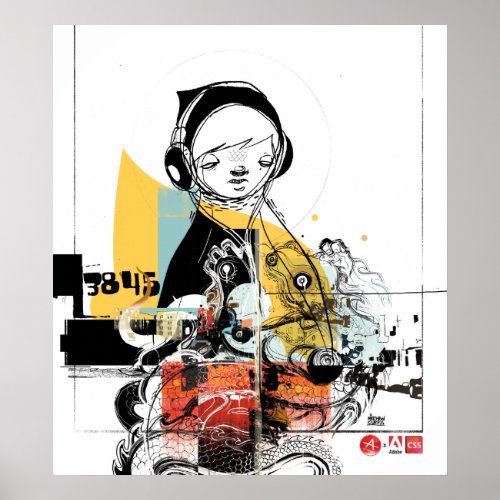 APxAdobe Matthew Curry-Mount Pleasant
by
MattCurry
Start
selling my artwork online for free
at Zazzle.
BvsD1
by
MattCurry
Large format poster printing
from zazzle
Matthew Curry draws inspiration from mythology and religious iconography; landscape paintings and street art; graphics and cartoons; Edo art and beats. He serves up layered landscapes haunted with anatomical and figurative juxtapositions in which the playful and sinister coexist. Behind abstract and aggressive marks, quiet bouts may be discovered. Poetic hiccoughs.

As his interest lies in exploring different methods of representation within his own work, the process itself becomes Curry's narrative of choice. With several works going at once, he hits them up randomly, whether through the course of a week or even years. The result mimics the layering that occurs on surfaces of an urban environment. Over time, his use of strong iconography and mark making has grown into a library of icons that serve as his own typeset. It enables him to investigate multiple approaches to create cohesive and non-cohesive narratives which are ever evolving, unpredictable, and without doubt, intriguing. "I don't ever feel satisfied with painting. It makes me mad. It makes me happy. It's a constant question," explains the artist. The visual language Matthew Curry has developed is easily recognizable on album and magazine covers, limited edition products, and in galleries and venues worldwide.